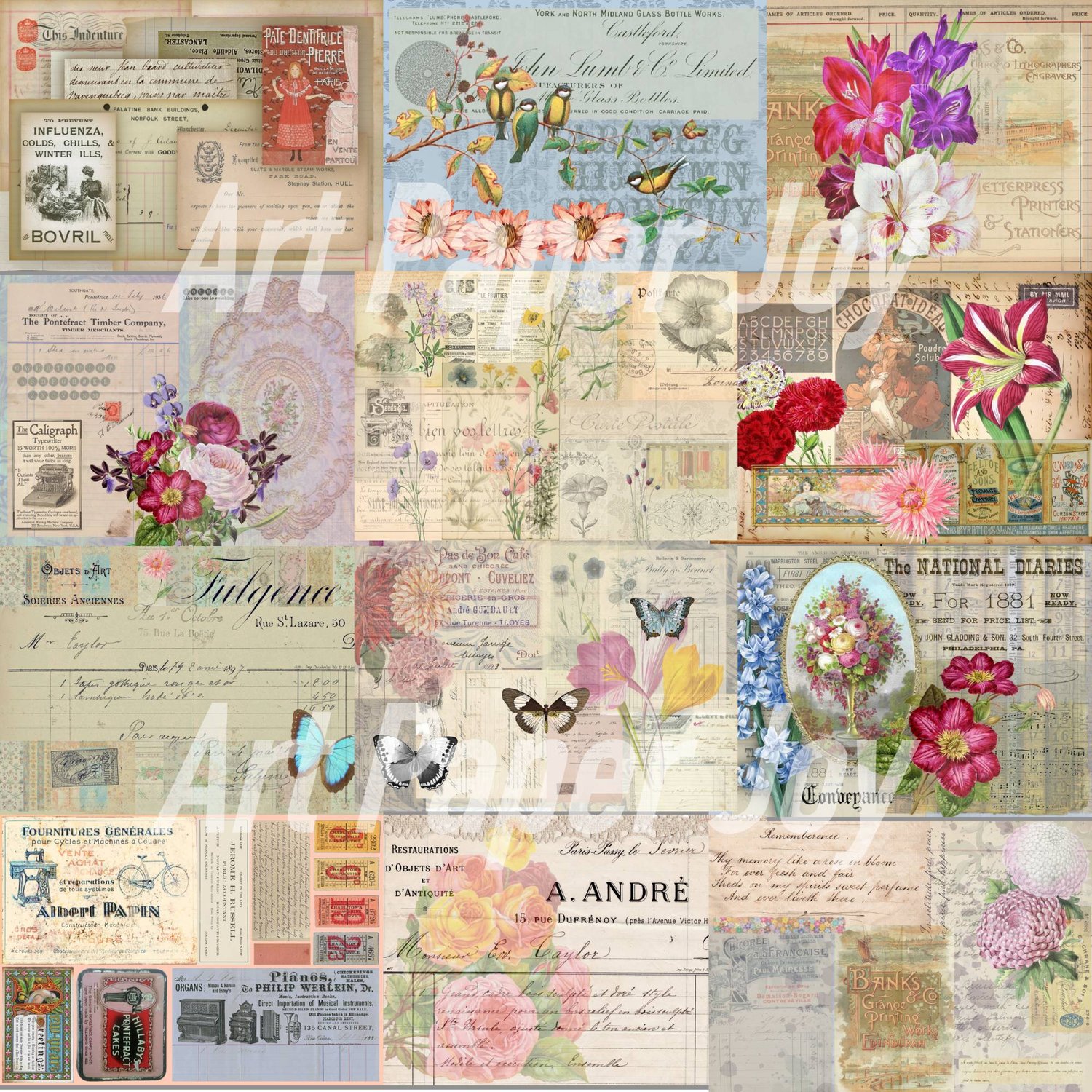 Decorative ephemera Journal Pages | Ephemera
Digital download of a huge collection of 16 full size decorative ephemera journal pages.
12 of the pages are highly decorative and vibrant with bold floral designs, butterflies and other loveliness against a background of original ephemera, including invoices, receipts and vintage advertisements.
The remaining four pages are a little more subtle, with one completely plain vintage background so that you can print your journal pages double sided to provide some journaling space if you wish.
Watch this video on my Art Paper Joy channel in which I show how to easily distress printables to make them look aged and 'original'. See also this video, which is a complete flip through of this printable pack.
I have a large collection of antique ledgers, documents, receipt books and other ephemera all too precious to use in junk journals. Instead I've digitised them and used them to create my own designs and ephemera. Ready to print and use in your junk journals, planners, scrapbooks and projects.
Choose from the options above for either A4 printing or US letter printing. 
Instant digital download - download, double click to unzip the files, save, print and use. For the most vibrant results print on matt photo paper using the Best Quality/Photo settings on your printer. 
Otherwise, use any paper that you want - copy paper or thin card. See my YouTube channel @artpaperjoy for ideas of other types of paper you can use for printing digitals.
You have permission to resize the files as you would like ( see basic info below - but please read the copyright information included as a pdf download with the pack).
Important information to note:
You must not copy this work and claim or sell it as your own. The copyright remains with Art Paper Joy/Crafternoon Treats.
You may use these images to print at home and use in your journals. Make as many prints as you want for your own personal use.
You may sell journals made with these items and a range of other papers, up to 250 items per digital.
You may not print the digitals and sell them as physical ephemera.
You may not print multiple copies of these digitals to share with friends or for classes.
You may resize the digitals to your own requirements.
Please tag me if you use the digitals. I am @artpaperjoy on Instagram
Use the hashtag #artpaperjoy
Most importantly, enjoy the digitals and enjoy your journal making!