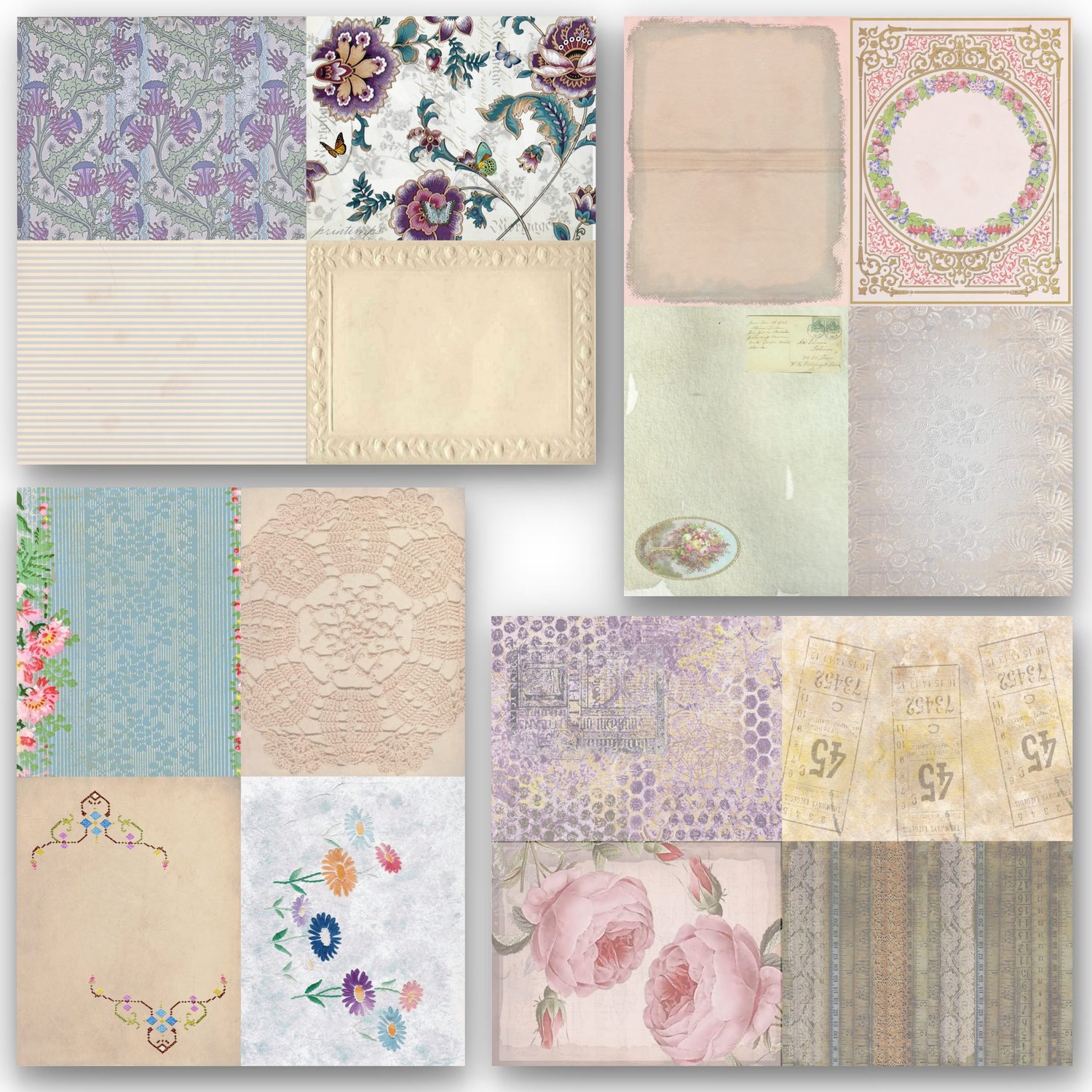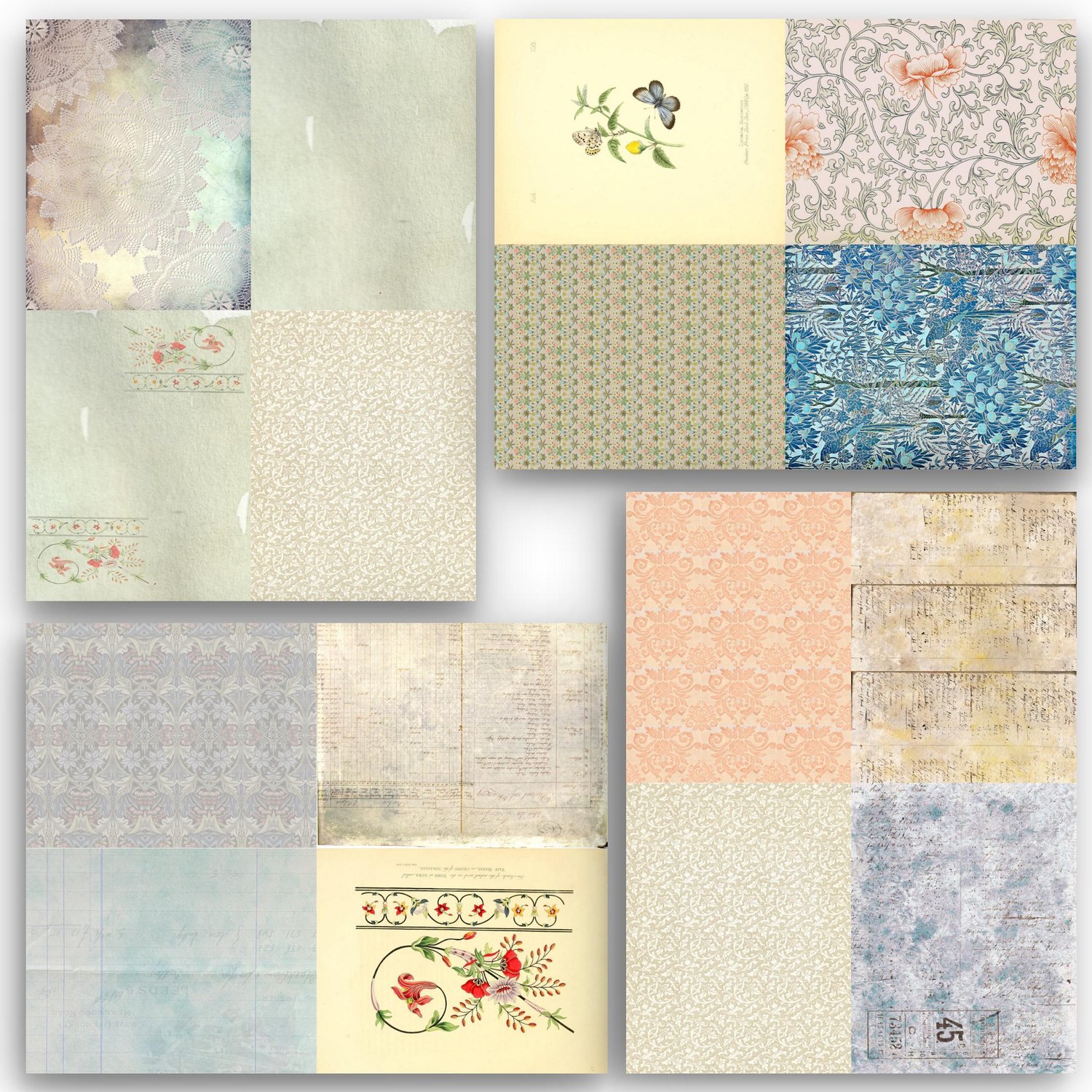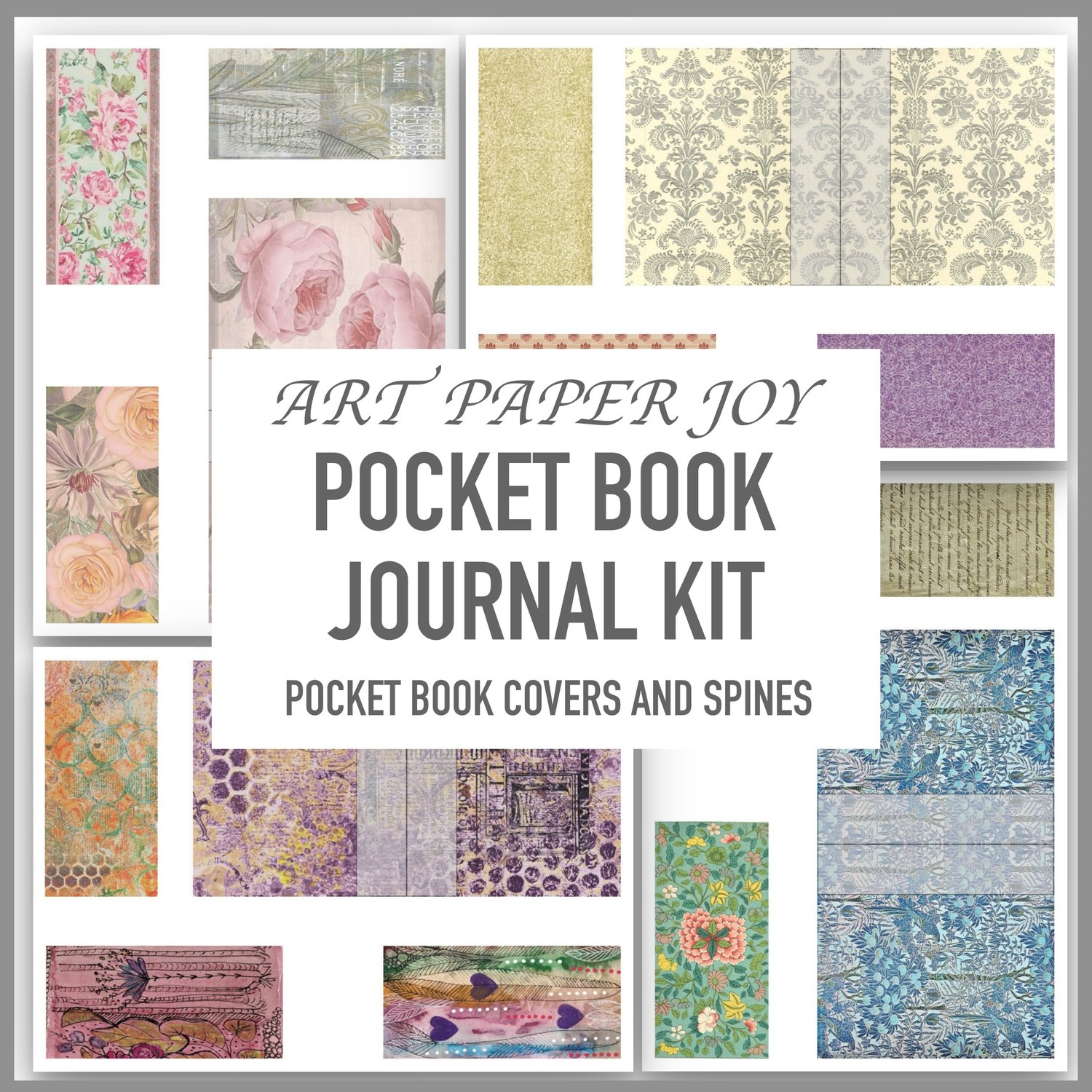 Pocket book journal kit | Complete kit to make a mini journal
Pocket Book Digital Printable Journal Kit
A simple-to-make mini journal in a pocket book style. The printable kit has everything you need to make as many pocket books as you want, with many different looks.
The pocket book journal kit contains:
8 full sheets of pocket book pages, with 4 small pages per sheet
6 full sheets decorative backgrounds to print on the reverse side of your pocket book pages
4 full sheets of vintage style lined writing paper, also to print on the reverse of your pocket book pages
4 full sheets of pocket book covers and spines
A decorated coin envelope to store your pocket book, or to place a pocket book inside as a gift
Files are included for printing on A4 and US letter sized paper. After download, choose the files you want and print!
You can watch a video about the kit and how to use it
here on my Art Paper Joy YouTube channel
.
How I use my Pocket Book Journal Kit
I wanted to create this kit so that I can print out small journals to use in the last months of 2022 and then into 2023 as little monthly gratitude journals. We all need to search out the good bits these days, don't we? I want to have a little journal, with no pressure to write loads, just for happy, inspiring quotes, memories and maybe some little bits of art and a photo or two.
As I show in the video, an ideal size is to use two sheets of small pages, each printed on the other side with a background  page, cut into 8 individual page sheets, then folded and assembled to make two signatures.
Each signature has four page sheets, giving 16 individual small pages. The two signatures are bound together in the clever cover, and then the spine is glued in place to complete the pocket book.
The final pocket book has 32 pages, plus the cover, so easily one little page for each day of the month.
So many uses: menu planning, shopping lists, work rotas, a little notebook for your main journal or planner, a mini art journal, a habit journal.
You can also make slightly bigger pocket books using more pages. I would recommend not more than 7 sheets per signature (you might need to trim the middle pages of each signature slightly). But that would give you 28 x 2 pages, so a pocket book with 56 pages, plus the cover.
The coin envelope
This is sized to fit your pocket book perfectly and you can print and make as many as you like. Print the image on one side of the paper and a background sheet on the other. The inside then looks as pretty as the outside.
You can also assemble the coin envelope inside out, giving you many different coin envelope designs. And why not print the envelope on one side or some decorative paper you already have for even more envelopes.
As I go through the year, I'm going to put my pocket books inside their envelopes, with one for 2 months. At the end of the year I'll have a year of happy memories, ready to put together with ribbon and lace for a lovely keepsake.
Giving a pocket book as a gift
For a gift, I recommend using the four pages per signature pocket book, and then placing it in the coin envelope. Use one of the spines as a mini pocket on the back and make a small notecard from one of the pocket book small pages to tuck inside with your special message.
These Digi papers are in high resolution pdf and zipped jpg format, ready for you to print. Several digital printable are compiled into each file. To print pages individually, just select the page you want from your print menu.
This journal is for you to print for your own personal use. It must not be printed and sold as a finished item but you can give it as a gift.
You need a printer to use these pages and they can be printed on the paper of your choice. I recommend 100gsm copy paper for pages. For a cover, cardstock or matt photo paper work well.
I can't help you with technical issues relating to your printer set up as every printer and system is different. These files are pdf files and you will be able to click, open and print using free software on a Mac or Windows based system. If you run into difficulty, you can google for help, or ask someone you know who is tech savvy. Other digital sellers recommend asking a kid, which seems like good advice to me!
TERMS AND CONDITIONS
When you buy and download these files, you are agreeing to the terms and conditions below:
YOU CAN:
***Print them out and use them in your own personal journals, scrapbooks, planners, altered books. You may resize them when printing to fit your projects. You may give the finished journal as gifts, but they are not to be sold.
***Use these journal digital files downloaded from Crafternoon Treats store for personal use ONLY.
YOU CANNOT:
***Re-sell, sub-license, share, gift or otherwise distribute the digital files or resell them "as is" (whether digitally or physically).
***Reproduce these images, whether digitally or physical in print form and sell them as-is. So you cannot print them and sell them as paper packs, nor can you repackage them digitally and claim them as your own work.
***Print and assemble journals to sell without written permission.
***Use these images as-is OR altered in your own digital work for use on a website, in social media or as your own digital downloads.
Please note that the digital images and designs in my shop are sold with a personal licence to you for use as described above. All remain the copyright of Crafternoon Treats / Kathryn Senior